Why Tigersquirrel™?
Did you know squirrels have a lot in common with credit unions? They may be small, but their existence serves the interests of the community at large.
Squirrels collect and store nuts so they'll have food to last through the winter. That thriftiness benefits more than just the squirrel—it helps the community too! By dispersing the nuts around and burying them underground, they are actually a supporting role in that tree's survival and the continued renewal of the ecosystem. 
In a nutshell: The tree's success is based on providing seeds to the squirrel, and then in return the squirrel plants the seeds so more trees can grow. Voila! The Circle of Life! 
Sound familiar? Learn more about the credit union difference.
History in the making
In the fall of 2013, Tigers Credit Union became a sponsor of Mizzou Athletics.  To show camaraderie with the athletic program, Tigersquirrel was born! He showed up on our billboards, in our advertising and at the Mizzou football and basketball games.  
During the summer of 2014, Tigersquirrel came to life in the form of plush dolls. We teamed up with the Tiger Pantry to raise money to feed the hungry in our community.  With more people getting their hands on tigersquirrel, his social media presence began to grow.  So we went even BIGGER, with the rollout of our full body mascot in 2015!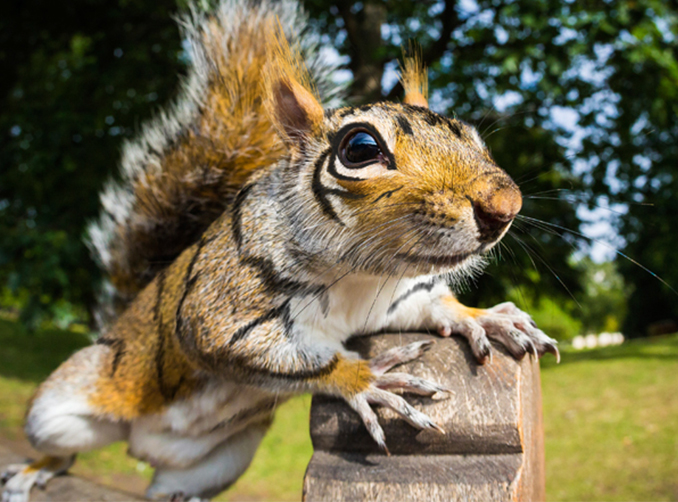 Tigersquirrel is very active on social media. He's been sighted all over the world on various work trips and vacations. We encourage everyone to follow him on Facebook, Instagram and Twitter and use #Tigersquirrel to share your own experiences.
WANT YOUR OWN FURRY FRIEND?
Stop by one of our branches to pick up a Tigersquirrel and start sharing in the adventures today. Don't forget to use the #Tigersquirrel